13/10/2011
Presidential Elections 2011: DiSabled people voted IN DIGNITY.
.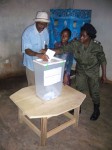 The 2011 presidential elections in Cameroon have been successful for the participation of people with disabilities. For the first time in the history of the country, they have been fully involved from the preparation to the end of the process. Since October 2010, many organizations of the civil society, disabled people organizations, journalists, human rights and United Nations organizations and some stakeholders like Sightsavers International Cameroon, began to prepare this political event. Workshops, training sessions, conferences, and press conferences have been organized to sensitize the population and political authorities to keep an eye opened to disabled people. "Accessible elections for persons with disabilities" a network with an ambitious program has been set on for the due cause. Sensitization campaigns took place all over the country asking disabled persons to subscribe to electoral lists, to consult electoral lists, to withdraw their electoral cards and vote. Five days before, Elections Cameroon in charge of the organisation of the election granted to visually impair persons even through it was late, a package containing electoral documents. Disabled persons as you can see in these pictures finally participated to these presidential elections in dignity. We should recognize that it has not been easy at all. It was not perfect but, it is the beginning of a long political process.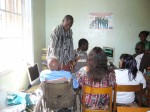 Some journalists of the network accompanied this process through special radio and TV programs as you can see in this picture. Some other one made some publications.
For the first time, among electoral observers were disabled persons. At least fifty in the whole country were trained like you can see in this picture. Code of conduct for elections stakeholders was distributed to disabled persons.
Etienne .D. ONANA© 94 78 86 88 / 70 31 11 28
13:22 Écrit par La voix des sans voix | Lien permanent | Commentaires (0) | Tags : droits humains, élections présidentielles 2011, personnes handicapées, politique, partis politiques, accessibilité, political paties, election, cameroon, rights, people with disabilies, disability, sightsavers, sensibiliation, candidats, conseil municipal, sénatorial, integration, inclusion, human rights |
|
del.icio.us |
|
Digg |
Facebook